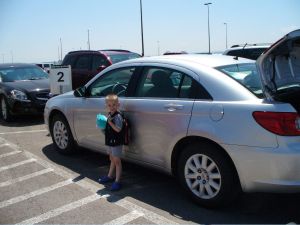 Matthew and I went on a trip in mid-July to South Dakota for a few days. It was actually a trip we had hoped to take last year but Cynthia was pregnant and the doctor did not want her flying. We considered driving or taking a bus or train but couldn't imagine traveling that far by those methods with a 4 year old and while Cynthia was that far along in her pregnancy. So, we decided to look into making the trip the next year, and Matthew and I did.

We decided against bringing Samantha because she is still so young and Cynthia stayed home with her. Matthew and I went mainly to see the Mammoth Site in Hot Springs, South Dakota. We flew into Rapid City and drove our rental car from there to Hot Springs. Along the way, we stopped at Mount Rushmore. It is very impressive and Matthew enjoyed it but the long day of traveling shows on his face in the pictures. So, we didn't stay there long and continued to the hotel.
We were staying at the Holiday Inn at Hot Springs. I requested a special room which had an alcove with a bunk bed, a small table and a TV which was Matthew's little room. That way, Matthew could go to sleep and I could stay up and watch TV without disturbing him. Better yet, the TV's had video inputs on the front so we were able to plug in our iPod's and watch movies. I had rented a couple of movies to watch on the trip so I had something to do in the evening when Matthew went to sleep. The room was perfect for us and would have worked well for the whole family had Cynthia and Samantha came also.
The first evening, we went to the restaurant next door. It was called Woolley's Mammoth Family Fun and of course Matthew had a great time there with lots of mammoth stuff on the walls and everywhere. They had great food and had lots of coin operated games and a selection of console games. At home, we often play Lego Star Wars on our PS2 before bed. So, at Woolley's, we paid for some time on an XBox 360 to play the game that night. We went back there one more time to eat and a couple more times to play games on the trip.
The first full day in Hot Springs, we spent at the Mammoth Site. We went first thing in the morning and went on a tour. They walked us through the excavation and showed us replicas of jaw bones and femurs of mammoths. Matthew had a great time seeing where actual mammoth fossils are being found. Thousands of years ago, that site was a sink hole and dozens of mammoths over the years had wandered into it and been unable to escape. They perished there and now we are finding the fossil remains.
After the tour, Matthew participated in the junior paleontologist excavation program. A couple of staff taught Matthew and a few other children how to dig for fossils. Then, in a large box filled with dirt and replica fossils, they each got the proper tools and started digging. Matthew started digging very carefully right away and was making slow progress which is normally good. However, he wasn't digging where he would find something, so one of the staff suggested he try another spot where she thought he might have some more luck. Sure enough, in a minute or so, he had reached a fossil. He exposed a fair bit of it using his trowel and brush when other of the staff stopped by to see how he was doing. When asked, Matthew said he was still working on digging out the fossil and didn't know what it was yet. The staff member commented to me that most kids are fairly impatient and want the fossil identified even though very little of it was exposed but Matthew seemed to be patiently trying to expose it for himself first.
He worked away for a while and eventually had it completely exposed. We looked though a booklet of possible fossils to see what it could be. We decided it looked like the skull of a short faced bear. I was worried Matthew would be upset he didn't find a mammoth fossil but he didn't seem to care. Since then, if you ask him, he will tell you he found the skull of a sabre-toothed cat. I am not sure why he has decided it wasn't a bear skull he found. Probably because a sabre-toothed cat is a bit cooler.
After lunch, we went back to the Mammoth Site and looked closer at the exhibits and took our time looking at the excavation itself. Matthew found it fascinating and we easily spent the whole day there. While exploring in the afternoon, we bumped into a staff member from the earlier dig and she was surprised we were still there. But Matthew loves mammoths and he didn't get bored of it at all. That night, he fell asleep early and I have a photo of him cuddling a stuffed mammoth we bought at the gift store.
The next day we spent at Evan's Plunge. Matthew enjoyed playing in the water and there was a large pool which was just the right depth for him. Later, we borrowed a life jacket from them and we spent a long time in one of the bigger deeper pools. I encouraged him to go down one of the slide with me but he was too scared. But, they looked like fun. I didn't get any pictures from this day because I didn't want to take the camera to the pool.
The next day we went to Wind Cave National Park and went on the Fairgrounds Cave Tour. It was a great tour and Matthew enjoyed it. As we walked, Matthew hummed the "Darth Vader" theme from Star Wars and other people on the tour near us thought that was pretty funny. At one point, we sat down and the guide turned off the lights in the cave so we could see how dark it is with no light at all. Matthew found that a bit scary and he held my hand until the lights came back on. At the end of the tour, we considered another cave tour but it was getting close to lunch and Matthew's knee was a bit sore.
So, we went back to Hot Springs for lunch. That afternoon, we played mini-golf and had a quiet day before I return home the next day. It was a great trip and I am considering trying to go on a father/son trip every year.