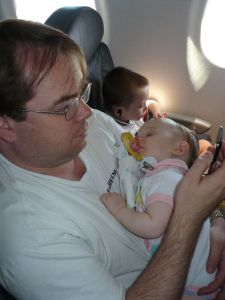 We have been considering an opportunity which would involve moving from our home in Dunrobin to Silicon Valley in California. The opportunity is a job with the same company I am currently working with but the job is in Mountain View, California. We are very seriously considering it and as part of that, the company offered to fly us all down there to see the area. Plus, I was there to learn about the job and work with the people in that office for a few days. But, this was also Samantha's first trip in an airplane.

We flew down on a Saturday and the flight was OK. Matthew was reasonably easy to entertain because we had some books for him and some movies on an iPod for him to watch. Samantha wasn't as easy and she was pretty upset for a few minutes. In fact, I am pretty sure that her screaming at one point was probably bothering Lewis Black, the comedian, who was sitting in first class just a couple of rows ahead of us.
But, we arrived safely and once United Airlines found our bags and brought them to us at the hotel the next day, we were ready to look around. We drove around through several neighbourhoods and also visited another family who moved from the Ottawa area in the last couple of years to ask some questions. We visited a few schools and they are very different than what we have here. Here, the rooms are all joined together with halls inside the building. There, because the weather is so good year round, each room opens directly to the outside. The kids even eat their lunches outside, unless it is raining.
I worked during the day Monday through Wednesday while Cynthia and the kids walked around and explored a bit of Mountain View and Sunnyvale. In the evenings, we tended to order room service because it was just easier with Samantha to eat in. Also, while Cynthia was putting Samantha to bed, Matthew and I would spend an hour in the pool. The plan was for Samantha to be asleep by the time we got back but it never really worked.
The trip back was actually a bit easier and Samantha slept well on the plane. We haven't made any final decisions yet but we will let everyone know if we are moving. If we do go, we will definitely use this website as a way to keep in touch with friends and family.