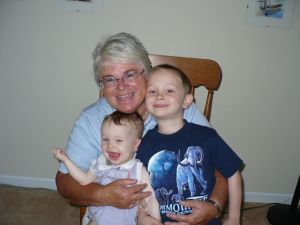 In early August, we all piled into the van and filled the back with bags and other stuff and headed down the 401 to visit Grandma and Poppa at their new home in Tillsonburg. Also in the back of the van was Matthew's bike and he rode along the sidewalk for hours everyday. It was a wonderful visit and much of my family stopped by to say hello.

The first evening, my cousin Darcie came for a visit. Another night, my brother Steve and his fiancee Katherine and my uncle George and Barb came by for a visit and dinner. Matthew had a bunch of fun playing soccer with everyone and was sure to show all of his Pokemon cards to everyone, whether they wanted to see them or not.
The van developed a nasty noise on the trip and my dad helped me fix it. The rear brakes had worn on one side and we checked the local Canadian Tire to see if they had the right pads. Luckily the Canadian Tire in St. Thomas had a set and Steve was nice enough to pick them up for us. The next day, Dad and I mounted them without much problem at all while Matthew rode his bike to the lamp post and back.
We spent some time at the beach in Port Dover and that was Samantha's first visit to a beach. The water was nice but it was a bit cool and windy for Samantha. We got some ice cream and then called it a day, just as the rain started to fall.
Another day, we traveled to Port Stanley to visit my friend Jeff at his house. We looked at some pictures from his sister's recent wedding and went for a walk to get some ice cream (actually, we think we had ice cream every day on this trip). Our timing wasn't as good that day as we huddled in the ice cream parlor for the storm to ease up before walking back to Jeff's house.
Just before we left, Grandma and Poppa gave Samantha her first present for her first birthday. It was a beautiful blue dress with sailboats that Grandma had made for her. Check out the photos to see Samantha opening her card with Grandma. Also, look for the photos of Samantha's first birthday party to see her in her fancy new dress.
It was a wonderful trip and we look forward to seeing everyone again soon.