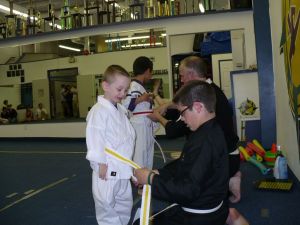 Also in May, Matthew earned his first karate belt. He was very excited as the pictures show. Matthew has been attending weekly karate classes since Ryan's birthday party and is still very much enjoying it.

He is in a program called "little dragons" and it is tailored for young children like him. After every session, you get a stripe on your belt as long as you participate and listen and try hard. With enough stripes, you get a new belt. Matthew started with a plain white belt and was adding stripes with each session. By mid-May, he was ready for a new belt and it has a yellow stripe along the middle. I am not posting about this until July and he is about to get his next belt but that first new belt was a big deal for him.
Matthew is also participating in U7 soccer this summer and enjoying that. So, every week he has a soccer practice, a soccer game and a karate class. In a couple of weeks, soccer will wrap up so perhaps he will do some swimming lessons before the summer is over and he is back at school.