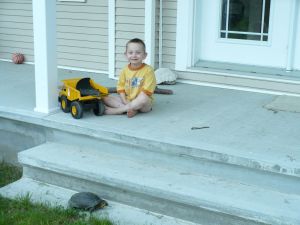 I haven't been diligent at all updating this site and a bunch of stuff has happened, especially with Samantha who is growing and progressing quickly. And I have a few pictures of the kids and a couple videos of Samantha that I want to publish here. Read more for the details and the links to the videos.

One of the pictures shows Matthew looking at a turtle which had ventured to the bottom of the steps to the front porch. Matthew definitely had a chance to see lots of wildlife this spring around the house. We saw many turtles and Matthew and I watched as one laid some eggs near the road. We have kept an eye on the spot to see if we find some broken shells on the ground but no sign that they have hatched. Seems a bit late at this point but we still look from time to time. We have also seen many rabbits and a couple of foxes around. Haven't seen as many deer this year but perhaps they will start to appear again soon.
Samantha has changed dramatically since I last wrote about her. At that point, she was rolling over and looked like she was about to crawl. Sure enough, she did start to crawl shortly after that. At first, she would pull herself with her arms and drag her legs which works fine on the hardwood floors. Not long after that, she got up on all fours and started crawling that way.
But at pretty much the same time, she was trying to pull herself up onto her feet. We honestly don't remember what Matthew was doing at 8, 9 and 10 months of age but we think she is ahead of him in this respect. Matthew was a climber and would get up onto the top of the couch, onto the window sill or just about anywhere. But, Samantha seems determined to walk and do it soon.
She has been pulling herself up to standing for a while now. And then she started walking with one or two hands to steady herself against a wall, the couch or just about anything. At first, there were lots of falls and the hardwood floors which made dragging herself along easy were not so forgiving. Now, she is very steady as long as she has one hand on something. If she drops something, she will bend over and pick it up, again with one hand to steady herself. She can drop back down to a sitting or crawling position from standing also.
So, the baby gate is getting closed and the stereo cabinet has to be locked again or someone mischievous will certainly be there to explore and get herself into trouble.