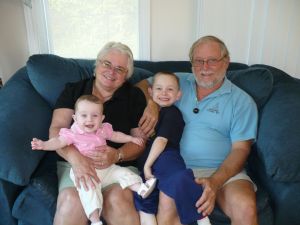 In May, Grandma and Poppa Rand paid us another visit and it was great to catch up with them. Check out some of the pictures of them with Matthew and Samantha.

It was unfortunately not a very long visit because they were very busy with their new house. We helped load up the Volvo to nearly overflowing with a few things we were storing for them. And we added to the load with a couple of gifts for different occasions to help stock their kitchen.
Dad braved the bugs to help me get the snow blower off the tractor and get the mower mounted. As usual, we appreciate very much his help around the house while they are visiting.
But, I think everyone enjoyed the chance to get together and spend some time. I know Matthew is very excited to see them whenever they come and Samantha will look forward to the visits soon enough also. In the meantime, we are hoping to get down their way in early August and perhaps we will have a chance to visit other friends and family in the area at that time.