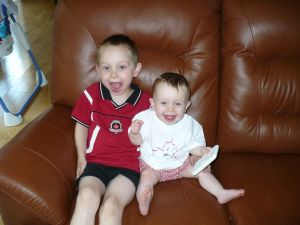 We continued our tradition of attending the Canada Day celebrations here in Dunrobin at the community centre. It was a beautiful day and we all had a great time. Unfortunately, we don't have many pictures but you can see a shot of Samantha playing in a bouncy ball tent and some pictures before we left the house. Matthew spent much of the day in another larger bouncy tent and when his turn was up, he would get back in line for another round.

We also bumped into a couple friends there. As it got later, I set up our chairs so we would have a good view of the fireworks. Everything seemed as though it was going to work out when Samantha fell asleep in her stroller. Our hope was she would fall into a deep sleep and maybe sleep through the fireworks when they started. But after a few minutes, she woke up again and seemed to resist going to sleep again. With daylight fading, we became concerned that the fireworks might terrify her. So, we left Matthew with some friends for a few minutes while Cynthia, Samantha and I headed for home. I stayed home to put Samantha to bed and Cynthia went back for the fireworks.
She got there just in time to enjoy the show with Matthew. Matthew had a great time watching the fireworks again this year and we all had a wonderful Canada Day.