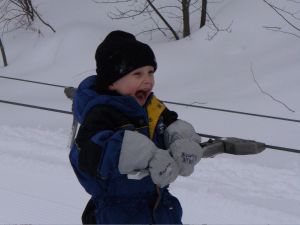 Matthew finally got a chance to try out his skis again. Bad weather and other plans kept us from getting him onto the slopes for a while. But, at the end of January, Cynthia took him to Mount Pakenham which is just 30 minutes away. They went with his friend Ryan who had never skied before and a lesson with an instructor was arranged for both of them. The photos show just how much Matthew enjoyed it.

He is now skiing on his own and able to turn and stop. Ryan had a great time too and they will likely ski together a few more times this year. Cynthia is considering putting Matthew in a regular weekly group lesson. Matthew will learn more that way but she has another motivation also. She used some money from her birthday and a pre-Valentine's gift to buy her own skis and boots. So, while Matthew is in lessons, she will have a chance to ski on some of the longer runs. Then, they can ski together for a little while after the lesson before heading home.
Perhaps in a few years when Samantha is old enough, we will all be skiing together. Until then, it is a great activity for Cynthia and Matthew.