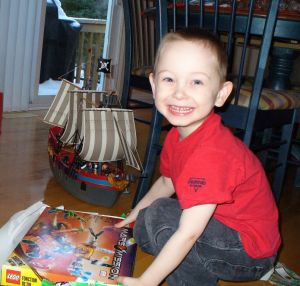 We had a wonderful Christmas at home today. It started at about 7:45 in the morning when Matthew got Cynthia and I out of bed. Samantha slept for about another hour so we had a chance to go downstairs and open some presents. Matthew was very excited and very happy with his gifts.

Santa brought him a pirate ship playset which he is enjoying very much. It has wheels on the bottom so it can roll around on the ground. But it also comes with a keel and will float in the water. I bet it is in the bath with him next time. It has a pile of little pieces like swords and mice and chickens and more so you can create lots of imaginary scenarios on the pirate ship.
Matthew also got "Hop on Pop" and "Fox in Socks", two Dr. Seuss books for his leappad. He has these books already and loves them but these ones are for his leappad. That means, he can point to the page and have it read to him, or better yet, he can read the page and point to words he doesn't know for some help. He likes his leappad and hopefully these books will encourage him to practice reading some more.
He also got a Lego set from Grandma and Poppa called "Mars Mission". I think I mentioned in my message about Matthew's birthday how he is fascinated with Mars. In fact, he really loves to hear about the rovers, Spirit and Opportunity which are exploring Mars right now. This kit has a rover like explorer vehicle and he was very excited to see it. Later that day, I built it for him and he has played with it a bunch already.
Soon after opening these gifts, Samantha woke up. So, we took a break and fed her and then opened some of her gifts. We opened some lovely sweaters for Matthew and Samantha from Grandma Kay. Zaida Steve is hoping to take Matthew skiing soon and the sweater will come in handy then. As expected, Samantha was pretty ambivalent about everything going on around her, but she was her usual good natured self and put up with the extra noise and excitement.
After opening our gifts, we had some french toast for breakfast. Then, we were able to call Grandma and Poppa through Skype and wish them a Merry Christmas. We told them how excited Matthew was about the Mars Lego set. It was great to get a chance to talk to each other on Christmas. We even were able to use the video camera for a while so they could see us. The link wasn't the best but it worked.
The rest of the afternoon involved much assembling of toys and trying this and that. Later, Jumping Jack Grandma and Aunt Ali came. Some more gifts were exchanged and I got the turkey into the oven. I checked it at 4:30 and it was done! About an hour earlier than I expected. I think the convection oven fools me every year. So, I rushed to cook the potatoes and carrots and prepare everything else for dinner. But, it all came together just fine and I think that was the best turkey I have ever cooked, if I must say so myself. Letting it sit on the counter covered for 30 minutes while I worked on other things probably helped after all.
We topped the evening off with watching "Meet The Robinson's" before Jumping Jack Grandma and Alison had to leave. It was a wonderful Christmas and will be a memorable one as it was Samantha's first. Merry Christmas to everyone.