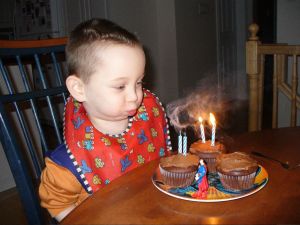 Matthew's 5th birthday was just over a week ago. On his actual birthday, we had a quiet night at home, opening some gifts and eating cupcakes. Cynthia's family from Montreal gave him a cool pirate Play Mobile set. He enjoys it quite a bit but it wasn't the most fun for me to put together. Grandma Heather and Poppa gave him a workbook for Matthew to practice his letters and a cool car which follows a track you draw with a marker. Both gifts are excellent for helping Matthew with his penmanship and he really enjoys drawing tracks.

Then, on Saturday was Matthew's party. It was at A Gym Tale which is a great place for kids to play. The theme was superheros because Matthew has recently become fascinated by Superman and Batman. There was a rope for swinging, a trampoline to bounce on, a ball pit, lots of cushion-y obstacles to clime and more. The staff kept them running and having fun for quite a while, gathering the red balls from the ball pit. After that, they all had cupcakes and then it was time to open the presents. A bit more playing and then the party was over. Matthew had a great time and I think his guests did too. The party at A Gym Tale was a great idea and when it was over, we went back home and didn't have any cleanup to do which was nice.
The other gift that Matthew got was Mars. This summer, Matthew became very interested in space and the planets, specifically Mars. I downloaded some software to track the stars and the planets. We used it to see Jupiter in August. It was very bright in the SW at the time. But Matthew wanted to see his favourite planet, Mars. I used the program to look ahead and found that Mars would be bright in the eastern sky at sundown right around his birthday. Sure enough, we went out one clear night a couple of days before his birthday and there it was just above the trees to the east. It was very bright and did seem to have a tiny reddish tinge to it. Matthew was very excited to see Mars finally, as was I. I have always been interested in the planets but hadn't seen them until I started looking for them for Matthew. Now he wants to see Saturn. Perhaps next year, we will get him a telescope for his birthday if he is still interested.