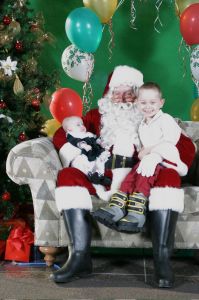 Last weekend was the Alcatel-Lucent Christmas party. The highlight of the day was seeing Santa Claus as the pictures show. Samantha wasn't scared of him at all. By next year, she probably will be and we will have a picture of her screaming on Santa's knee, just like the one we have of Matthew from a couple of years ago. This year, Matthew was very excited to see Santa.

He had sent Santa a letter and wanted to talk to him in person and tell him what he wanted for Christmas. Cynthia and I aren't sure what he said but he talked softly and slowly with Santa for quite a while. Shortly after that day, Matthew received a response from Santa in the mail. He is very excited about Christmas this year.
While waiting in the line to see Santa, Matthew opened his gift. It was an Ice Age II board game. Matthew loves mammoths and really likes the Ice Age movies. We have played it a bunch of times and I am sure we will be playing it more through the holidays.
After seeing Santa, we went to watch the magic show. The sound system was too loud for Samantha, so she and Cynthia went elsewhere. Matthew and I watched the show for a while and it was pretty good. But, we arrived early to get in line for Santa and had enough for one day. So, just before the final acts of the magic show, we found the rest of our family and called it a day. Soon enough, it will be Christmas and Matthew will see if his messages to Santa were heard…