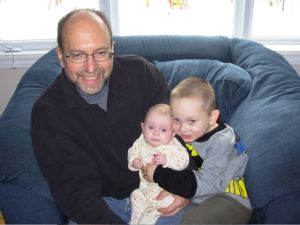 This past weekend we had a visitor. Zaida Steve, Cynthia's dad, was here for the weekend. He arrived late Friday, about an hour after Matthew's bedtime. But Matthew was too excited to sleep and came down to greet him shortly after he arrived.

On Saturday morning, aunt Alison, aunt Stephanie, uncle Dan, cousin Mia and cousin Jacob came to our house to visit. Mia seemed very interested in Samantha and also played with Matthew quite a bit. Jacob was up and about with his walker. We had some pizza from the restaurant at the corner for lunch and an hour or so later, Stefanie and Dan and family had to get back home. But, Alison, Zaida and the rest of us decided to spend the rest of the afternoon on an outdoor activity.
There is a fairly big man-made tobogganing hill in Kanata and having gotten our first snow a few days before, we decided to go try it out. We didn't have much snow but it seemed like it would be enough. I was a bit worried that the relatively warm weather and the first snow fall would make the hill very busy but it wasn't bad. Matthew had a great time going down the hill. Each run, he was accompanied by one of us. I went down with him once and I lost count of the number of times Alison and Zaida did the run. I think at least 4 each. Soon enough, it was 3:30 and we wanted to get home before dark and to prepare some dinner. We will have to get back to that hill a few more times this winter. Next time, perhaps we will get some pictures of it also.
Sunday, Zaida had to head home. But, not until he and Matthew built a snowman outside in the front yard. There is a picture of their work in the photo gallery. Matthew was very upset to see him go but we had some good news for him. We were already making plans to see him again, with granny Nanny, around Christmas.