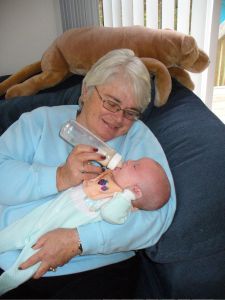 Grandma and Poppa, also known as mom and dad to me or Heather and Murray Rand to most, stayed with us for nearly a week long visit. Grandma had already seen Samantha but this was Poppa's first opportunity to see her. Matthew was very excited, often too excited, to have his grandparents visiting for so long. We have a few pictures from the visit but somehow Poppa avoided the camera lens. But, with someone else to take some pictures, there is finally a shot of Cynthia and Samantha.

Unfortunately, I couldn't take any time off of work to spend time with the extended family this past week. But, I got time in the evenings to catch up with my parents. Plus, they have just bought a MacBook Pro and I was helping them set it up and giving them little tutorials on how to use it. Seems like a great little machine and I hope it works out well for them.
During the day, dad kept busy by helping me out with jobs around the house I hadn't gotten to. He and I framed in a room in the basement this past spring and got most of the drywall up. This summer, I work on the room myself and got it to the point where it was usable. But, the doors needed a coat of paint, the finishing nails in the trim needed to be inset and covered so they wouldn't be visible and a few other things. He did all of that for me and used up some left over drywall covering up the unfinished side of one of the walls, levelled a spot on the front lawn which had settled, put in a couple of patio stones below my hose bib, and prepared the sailboat for the winter. I am sure I forgot a couple of other jobs he did for me. Also, between these jobs he took Matthew for a few bike rides which he very much enjoyed.
Mom, just like a month ago when she visited, was a great help with Samantha, entertaining Matthew, helping out with meals etc. But more than anything else, we were all very happy to have them here with us before they go south again for the winter.
Which brings us to the other news. Normally, they spend their winters on a sailboat in the Bahamas, as described on their website, www.Windswept-IV.ca. In the summer, they have been working as dock masters at the Killarney Mountain Lodge. However, they have decided that this past summer will be the last time they will do that. This fall, they started seriously looking for a house and it looks like they have found one in Tillsonburg. Next summer, perhaps we will visit them in their new home.
Soon, they will head to Florida and get the boat ready for another season. However, unlike other years, we have some more ways to keep in touch. There is this website for one thing, but we also tried Skype and iChat. Looks like we should be able to video chat from time to time this winter, at least when they are able to find a net connection in the islands. Still, visits like we had this past week can't be replaced by a video chat.