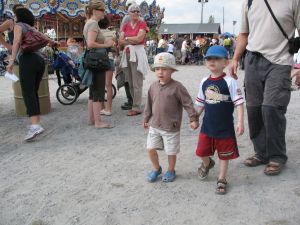 Cynthia and I were worried that Matthew might not make it to the Carp Fair this year. We were both very busy taking care of Samantha. Honestly, I don't enjoy that kind of thing much and I wasn't having much luck convincing Cynthia to take him and leave me with Samantha. In the end, Cynthia had an errand to run that day so she couldn't have taken him anyways.
But, a good friend of Matthew's across the road, Alex, and his parents offered to take him for the morning. He had a great time.

By just after lunch time, they were getting back from the fair but Alex and Matthew wanted to play more. They stayed at Alex's house for a while and then a little later came to our place and played in the new toy room in the basement. I invited Louise and Arand, Alex's parents over for dinner and we made it a full day event. Matthew and Alex had a great time together and get along very well. Matthew is very lucky to have a good friend just a short walk away and I am sure they will continue to be great friends for a long time.